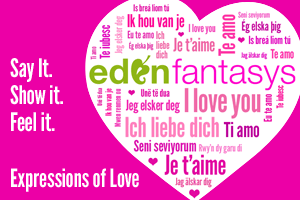 EdenFantasys
' theme this month is all about expression of love. How do you express love? At first I thought "Oh that's easy!!" and then I tried to write this blog post. Haha! I couldn't put into words how I express love, but then I realized that its not necessarily about words, its about actions. People express love to everyone all sorts of ways. Whether it be doing the dishes after your significant other cooked or maybe you cooked their favorite dinner for them after they had a long day at work. Maybe you express love by holding the door open for the person behind you at the local convenience store.
You might even express love for the environment by cleaning up your trash and making sure you don't litter. Maybe you've chosen to go green. Did you know you could go green in the bedroom? EdenFantasys now offers "green"
sex toys
for those who want to take caring for the environment a step further.
No matter how you choose to express love, just remember that people notice and love you back :)
Disclosure: This post is sponsored by EdenFantasys.com. All opinions above are my own.