First off, smile with me :) You made it through another week and deserve a big smile. You've got the whole weekend ahead of you so make it a good one!
This week it's Sara from
Our Breezy Beach life
!!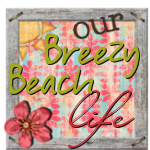 I asked Sara a few questions about herself and her blog so you could get to know a little bit about her.
1) When did you first start blogging? Why?
I started blogging in 2008 as a way to keep in touch with friends and family who live out of state.
2) What's your favorite part about blog hopping?
Blog hopping is a great way to meet new people and find some really wonderful blogs.
3) What's your favorite hobby
My favorite hobby is going to the beach with my family.
4) Who's your role model?
My role model is my Mom.  She is such a caring person and has a heart of gold. 
Now that you know a bit about the Smiley Hopper of the week... get to hopping!
How it Works
* Follow Me and the Smiley Hopper of the week! (Spots 1 & 2) Leave us a comment with your blog url so that we can follow you back
* Grab the Smile With Me Saturday button then post on your blog to give your new followers a place to comment
* Add your blog to the list- (NOT YOUR BLOG HOP or GIVEAWAYS PLEASE) These entries will be deleted.
* Follow as many blogs as you would like, Make sure you leave them a comment so they know you stopped by. Then Follow Back everyone that follows you & comments.
One of you lucky hoppers who enter the linky will get to be featured as next weeks #2 spot!!
You can link your blog every Saturday at 12am EST. Have fun!!